Raspberry pi 3 model A+ announced to launch at his blog, the title is  NEW PRODUCT: RASPBERRY PI 3 MODEL A+ ON SALE NOW AT $25  This is the first time Raspberry pi foundation announce like this.
Look at the Raspberry pi 3 model A+ video first:
Raspberry Pi 3 Model A+
Long-time readers will recall that back in 2014 the original Raspberry Pi 1 Model B+was followed closely by a cut-down Model A+. By halving the RAM to 256MB, and removing the USB hub and Ethernet controller, we were able to hit a lower price point, and squeeze the product down to the size of a HAT.
Although we didn't make A+ form-factor versions of Raspberry Pi 2 or 3, it has been one of our most frequently requested "missing" products. Now, with Raspberry Pi 3 Model B+ shipping in volume, we're able to fill that gap by releasing Raspberry Pi 3 Model A+.
Phenomenal cosmic powers! Itty-bitty living space
Raspberry Pi 3 Model A+ incorporates most of the neat enhancements we made to its big brother, and features:
A 1.4GHz 64-bit quad-core ARM Cortex-A53 CPU
512MB LPDDR2 SDRAM
Dual-band 802.11ac wireless LAN and Bluetooth 4.2/BLE
Improved USB mass-storage booting
Improved thermal management
Like its big brother, the entire board is certified as a radio module under FCC rules, which in turn will significantly reduce the cost of conformance testing Raspberry Pi–based products.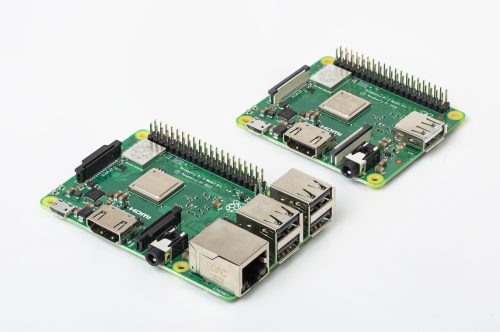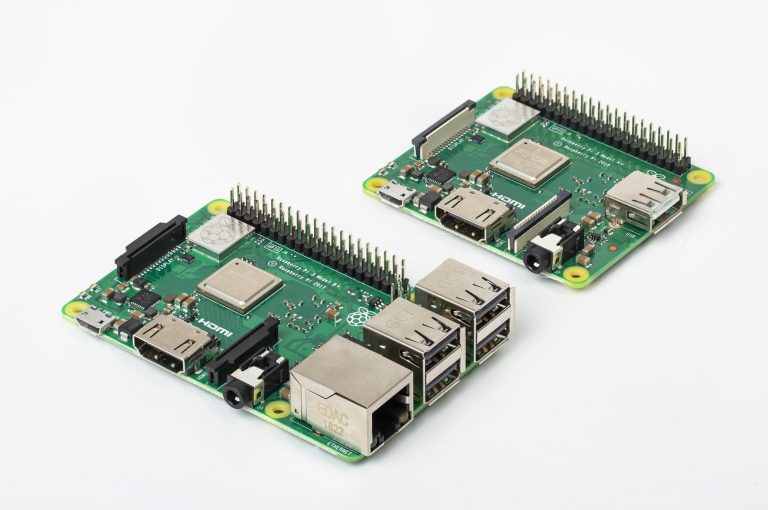 In some ways this is rather a poignant product for us. Back in March, we explained that the 3+ platform is the final iteration of the "classic" Raspberry Pi: whatever we do next will of necessity be less of an evolution, because it will need new core silicon, on a new process node, with new memory technology. So 3A+ is about closing things out in style, answering one of our most frequent customer requests, and clearing the decks so we can start to think seriously about what comes next.
Just in case
Our official cases for Raspberry Pi 3B and 3B+ and Raspberry Pi Zero have been very popular, so of course we wanted to offer a case for this new device.
Unfortunately it's not quite ready yet, but as you can see it's rather pretty: we're expecting it to be available from the start of December, just in time to serve as a stocking filler for the geek in your life.
From that we know:
The Raspberry Pi 3 Model A+ has the same dimensions as the Raspberry Pi 1 Model A+ (65 x 56 mm) and therefore can be used as a direct replacement.
The specifications:
Processor: Broadcom BCM2837B0, Cortex-A5364-bit SoC @ 1.4 GHz
Memory: 512MB LPDDR2 SDRAM
Network: 2.4 and 5 GHz IEE 802.11.b/g/n/ac wireless LAN, Bluetooth 4.2/BLE
Interface port: Extended 40-pin GPIO header
Video & sound: 1 × full size HDMI
MIPI DSI display port
MIPI CSI camera port
4-way stereo output and composite video port
Multimedia: H.264, MPEG-4 decoder (1080p30); H.264 encoder (1080p30); OpenGL ES 1.1, 2.0 graphics
SD-card support: Micro SD-card for operating system and data
Power supply: 5 V/2.5 A DC via micro-USB-connector
5 V DC via GPIO header
Operating temperature range: 0–50°C
Compliance: For a complete list of regional compliance certificates.
Production: The Raspberry Pi 3 Model A+ will be in productions until at least January 2023
The Raspberry Pi 3 Model A+ is the latest product in the Raspberry Pi 3 series. Just like the Raspberry Pi 3 Model B+ it has a 64-bit quad-core processor that runs at 1.4 GHz. Dual-band WiFi at 2.4 and 5 GHz and Bluetooth 4.2/BLE are also available.
The dual-band wireless LAN is supplied with module-level compliance certification, so that this Raspberry Pi version can be used without any changes in an OEM product and therefore avoids a considerable amount of compliance testing. This saves both on development cost and time-to-market.