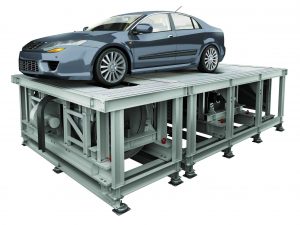 The 4WD chassis dynamometer, or rolling road, is in Mahle's new Real Driving Emissions Centre (RDEC). The Vulcan II 4WD ExtraCold unit, will be used in a variable control temperature and humidity test chamber that can be partially evacuated of atmospheric air to simulate driving at altitudes of up to 5,000m.
The traversing wheelbase can accommodate vehicles with different front-to-rear wheel spacings and reaches speeds up to 190km/h. Power rating is 450kW and operating temperature range is -40oC to +60oC.
The dynamometer provides a resistive load to rotating wheel on a vehicle to simulate various driving conditions, such as driving uphill. It can also be used to test front-, rear- and four-wheel drive vehicles. It can also drive a vehicle's wheels to simulate descending gradients to evaluate the vehicle's brakes, or test the regenerative braking system in electric or hybrid vehicles.
The variable control temperature and humidity test chamber is due to be fitted with exhaust emissions testing equipment to satisfy the requirements of the new Worldwide Harmonised Light Vehicles Test Procedure (WLTP). It is the first of its kind in the UK, says Derek Wise, chief engineer, build and test, at Mahle Powertrain. He said: "Though hill climbing is not part of the WLTP, vehicle manufacturers are keen to optimise their vehicles for real-life driving conditions." He points out that the alternative to a test chamber is to test prototype vehicles, fitted with sensors, on a variety of roads and in different conditions.
The emissions equipment is scheduled for installation in April and the test chamber is expected to be fully operational by mid-2018.