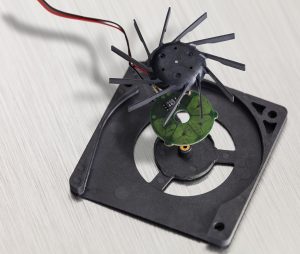 The US168KLD and US169KLD are automotive grade single-chip solutions for driving single-coil brushless DC fans and motors.
According to Melexis, as a result of their soft-switching characteristics, they ensure low levels of EMI and acoustic noise, making them suitable for in-cabin automotive applications such as sensor fans or cooling fans for wireless chargers, computing, audio and multimedia.
Configured as a full-bridge driver with the ability to drive motor currents up to 300mA and a supply range from 1.8V to 5V, the devices include an integrated Hall effect sensor.
Built-in reverse voltage, locked rotor, and thermal protection ensure that the drivers are robust, even in challenging applications, says Melexis.
Both devices are housed in a tiny UTDFN6 package, 0.4mm tall that occupies only 3mm2 of PCB area, suiting them for integration in ultra-thin fans. The US168 includes a tachometer (FG) output signal and the US169 includes an alarm (RD) output signal.
These fan drivers will be qualified to AEC-Q100.