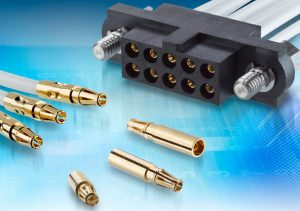 It uses a proprietary six-finger design, machined from a single piece of beryllium copper.
"The innovative patented design employed in these components presents more contact points, which enhances resilience to shock and vibrational forces," said the firm – ratings are 100gravity and 40gravity for 6 hours (2 hours on each axis), respectively.
The crimp barrel accepts 22AWG wire and complies with IPC-A-620 cable harnessing specifications.
Contacts are gold plated in order to ensure that reliable performance in demanding environments – allowing US military requirements to be met, according to the firm.
Rated at up to 1,000 mating cycles, operational temperature range is -55 to +125°C.
"The T-Contact exhibits 60% greater contact wipe compared to existing Datamate contacts – which improves the self-cleaning action and reduces the possibility of surface contamination arising," said Harwin. "To accompany these contacts, Harwin supplies a variety of dual-row housings with different jack-screws which are available direct from stock in different sizes, from 4 to 50 position."
Applications foreseen include: defence, avionics (control, radar, UAVs), motorsport (navigation systems, sensors, telemetry), industrial automation (drives, controls, robotics, motion control systems) and satellites.