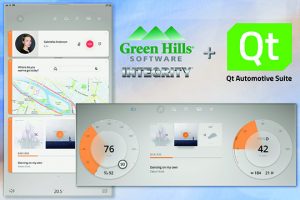 To tackle this challenge, Qt has integrated its cross-platform Qt Automotive Suite framework with Green Hills safe and secure INTEGRITY Multivisor virtualisation offering to enable the integration of disparate HMI interfaces across multiple operating systems at different safety levels into a single multicore system while complying with the highest levels of automotive safety standards.
As an optional RTOS service, the INTEGRITY Multivisor secure virtualisation extension runs high level operating systems such as Linux and Android alongside real-time critical applications requiring safety and security, assuring freedom from interference with native speed performance and safe, secure inter-process communication.
The Green Hills INTEGRITY RTOS, when combined with the Qt Safe Renderer, enables ISO 26262 certification for important safety-critical display elements.
Additionally, the Qt Safe Renderer, as part of the Qt Automotive Suite, enables designers and software engineers to use a single user interface (UI) toolkit to design, build and test digital cockpits across all HMI needs, independent of safety requirements, for a consistent user experience.
The Qt framework enables developers to build both instrument clusters and centre stacks with a single toolkit. Advances in processing power, together with mature safe, secure hypervisor technology result in significant cost savings without compromising safety when integrated into a single system on a single multicore automotive SoC using this combination.